Improving Access to Cervical Cancer Diagnostic and Therapeutics Tech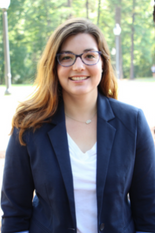 Fischell Department of Bioengineering (BIOE) Assistant Professor Jenna Mueller is working to improve access to cervical cancer diagnostic and therapeutics technologies in the United States and in low-and middle-income countries (LMICs). Her research, "Optimizing ethyl cellulose-ethanol delivery towards enabling ablation of cervical dysplasia" was published in Nature's Scientific Reports in late August 2021.
In high-income countries, cervical cancer rates have dropped significantly in the past 50 years, primarily due to development and implementation of population screening with the Pap smear, and more recently with co-testing for human papilloma virus (HPV). However, cervical cancer remains a major threat globally. In LIMCs, 80% of women diagnosed with cervical dysplasia – a precancerous condition caused by HPV – do not return for follow-up care, primarily due to treatment being inaccessible.
A patient in a high-income setting would require three clinical encounters, but lack of resources makes this impossible for many LMICs. Barriers to cervical cancer prevention include few trained providers, social stigma, lack of awareness, limited access to providers, and limited access to biomedical technologies needed to prevent, diagnose, and treat cervical dysplasia before it becomes cancer.
"Cervical cancer is really interesting because it is a marker for access to health care," explains Mueller. "We have the tools to prevent deaths due to cervical cancer today, yet it remains the second leading cause of cancer-related death for women worldwide."
In her Global Biomedical Devices Laboratory, Mueller uses engineering design methods, rapid prototyping and fabrication, optical imaging, chemical ablation, bench testing, and small and large animal models to develop and evaluate biomedical technologies for improving cancer management globally. Before joining BIOE in 2020, Mueller worked as a postdoctoral researcher at Duke University's Center for Global Women's Health Technologies, where she first became interested in cervical cancer research.
At Duke, she worked on developing the Pocket colposcope, a device designed to diagnose cervical pre-cancer in LMICs. Mueller worked alongside an industry partner to prepare the device for manufacturing, and is working with Calla Health Foundation, a startup venture, to commercialize the Pocket.
"Being able to diagnose pre-cancer and cancer is not enough, particularly because up to 80% of patients are lost to follow-up care in LMICs," says Mueller. "As I interacted with health providers in international settings through the Pocket project, I was struck by the need for low-cost, easily-accessible pre-cancer and cancer therapies that can be delivered at the point-of-care. Collaborators expressed that while several therapies exist for effectively managing cervical pre-cancer, they are often inaccessible at the point of care in LMICs."
She began to study ethanol ablation, an injection of ethanol through the skin directly into a tumor to kill cancer cells. The treatment is low-cost (a few cents per injection), portable, does not rely on electricity, and can be made accessible in LMICs. However, it suffers from leakage of ethanol into nearby tissue or up to the surface of tissue, resulting in off target effects and limited efficacy.
Mueller found that adding a low-cost polymer, ethyl cellulose to the injectate formed a cohesive local gel when injected into tissue. Preliminary results suggest that the team's novel formulation of EC-ethanol reduces leakage in cervical tissue.
"Our vision is that women in LMICs could be diagnosed with the Pocket colposcope and treated in the same clinical encounter with EC-ethanol ablation," says Mueller. "This would enable a 'see and treat' paradigm, which is recommended by the World Health Organization."
The next step in this research is a larger study to evaluate both safety and the zone of necrosis from EC-ethanol ablation compared to other ablative therapies that are already used in the clinic. Those studies are underway and are being led by Mueller Lab postdoctoral researcher Tri Quang and graduate student Jeffrey Yang. "Acquiring that data will enable us to move into clinical trials in the future," says Mueller.
Robert Morhard, Michael DeSoto, Erika Chelales, Jeffrey Yang, Corrine Nief, Brian Crouch, Jefrey Everitt, Rebecca Previs, David Katz, and Nimmi Ramanujam are co-authors of the Scientific Reports paper. In addition to her BIOE appointment, Mueller is a researcher with the University of Maryland's Robert E. Fischell Institute for Biomedical Devices.
Published September 21, 2021