Everitt, Gaitan Granted 2020-2021 Fischell Fellowship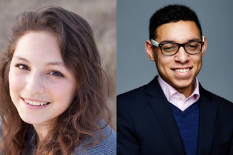 The Fischell Department of Bioengineering (BIOE) is pleased to announce the two recipients of the 2020-2021 Fischell Fellowship: Micaela Everitt and Brandon Gaitan.
In support of founder Dr. Fischell's vision for the future of bioengineering, the department's Fischell Fellowship in Biomedical Engineering is a unique opportunity for talented and innovative graduate students interested in applied research and product design in the biomedical industry. The department has named Fischell Fellows since 2003. Each fellow is granted a $2,000 award in addition to department support for their Graduate Research Assistantship.
Fischell Fellow Micaela Everitt is a fourth-year Ph.D. student in BIOE Associate Professor Ian White's Amplified Molecular Sensors Lab, where she focuses on improving point-of-care diagnostics. Recently, she has been developing a point-of-care SARS-CoV-2 antibody detection system that works directly on whole blood without requiring manual sample preparation steps like centrifugation or excessive dilution.
Everitt has a lifelong interest in medical science and expanding access to healthcare. She excelled in math and science coursework as a young adult, and found herself intrigued by the ins and outs of engineering and anatomy. She earned her B.S. in Bioengineering from University of Washington in 2018, and began her Ph.D. later that year.
"When I was interviewing at various grad schools, University of Maryland (UMD) stood out as a very supportive and collaborative environment," remembers the Fischell Fellow. "Students seemed genuinely proud to be a part of the department and it pretty quickly became clear that it was something I wanted to be a part of." As a first-year Ph.D. student, Everitt became involved in the Bioengineering Graduate Student Society (BGSS) at UMD, and was elected president of the chapter in June 2021.
"I was honored to receive the Fischell Fellowship, an award that supports translational research - one thing that initially drew me to bioengineering and what I hope to pursue after earning my Ph.D.," says Everitt. "On top of helping fund my Ph.D., this fellowship encourages recipients to submit invention disclosures for their Ph.D. work to help push this translational research toward commercialization, and I love that BIOE supports research that aims to be useful beyond just a publication." After earning her Ph.D., Everitt hopes to work in research and development at a diagnostics company.
Fischell Fellow Brandon Gaitan is a fifth-year Ph.D. student and is co-advised by BIOE Assistant Professor Huang Chiao (Joe) Huang University of Massachusetts Amherst Associate Professor of Biomedical Engineering Yu Chen.
Gaitan earned his B.S. in Biochemistry from the University of Maryland in 2014. He then worked as an Associate Scientist at biosafety corporation BioReliance and an ORISE Fellow at the U.S. Food and Drug Administration (FDA) before returning to UMD's campus to begin his Ph.D. in Bioengineering in 2017.
"Although I enjoyed my time in the biosafety industry doing wet lab work, I have always wanted to build a medical device with my own two hands," explains the Fischell Fellow. "Going to UMD and getting my graduate degree allowed me to pivot from doing cell culture and wet lab work to developing entire medical devices from scratch." His research focuses on developing devices to detect cancer, as well as cancer treatment effectiveness centered around photodynamic imaging.
Gaitan dedicates much of his free time to leadership roles; he is the Graduate Chair of the UMD Society of Hispanic Professional Engineers chapter and Founder and Co-President of Maryland Graduate Consulting Club.After earning his Ph.D., he plans to utilize scientific knowledge to inform business decisions for medical device and pharmaceutical companies in a consulting career.
He expresses his gratitude for the Fischell Fellowship: "This opportunity allows me the flexibility to other projects that did not have funding for me previously. For example, we are exploring the idea of developing a new endoscopic device to simultaneously activate a photodynamic therapy agent, which is used to treat cancer and monitor the effectiveness of said treatment."
Learn more about past Fischell Fellows' groundbreaking work in bioengineering.
Published September 13, 2021